Thanks to Elias for passing on this 1920 view of the King Edward VII Hospital which had been opened in 1909.
We also copy here an image of salvaged items from the hospital after a fire in 1928.
The RWWS recently obtained this picture of salvaged items from the Edward VII Hospital fire of 24th April 1928 in which a defective flue in the roof above Queen Alexandra Ward caught fire. The fire had gained a firm hold before the fire brigade arrived and evacuation of the ward, as well as the neighbouring King Edward Ward was in hand. Within 15 minutes all the patients had been moved to safety but both wards were totally destroyed.
The initial fear that the whole hospital was at risk proved unfounded, the fire brigade getting the blaze under control by six o'clock in the evening.
The fire engine Princess Mary pictured above was involved in the fire fighting and there exists some additional photographs of the front of the hospital taken during the fire but I do not have access to them currently.
The hospital staff were greatly helped by soldiers from Combermere Barracks across the road, with evacuated patients being accommodated in the Military Hospital which was empty at the time. By dusk the forecourt of the hospital was full of salvaged furniture, bedding and equipment. Within three weeks three temporary wards had been erected in the hospital grounds with two already in use. Subsequently the wards were rebuilt and the hospital enlarged, including a new nurses' home in the grounds.
It seems that the buildings behind the statue are in Osborne Road.
The Nurses' Home built behind the hospital was used as a location in the film '
Carry on Cabby
' of 1963.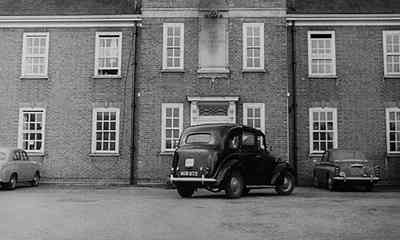 Sid James's taxi arrives at the front of the Nurses' Home in Carry on Cabby