This thread was originally entitled The Cedar Tree is Going - Not if we can help it but has been renamed following the successful campaign to save the tree and some sensible consultation and discussion between residents, councillors, the media, the insurers and borough officials which, by the end of August 2011, resulted in a reprieve for the tree. What so nearly was a disaster, the rushed felling of the tree within days back in March 2011, has now resulted in the tree's survival, much to residents' delight.

The following posts are a record of views expressed during the process and subsequently, so will be retained for future reference. The whole sorry affair began with an email...

There have been at least two other threats to the Great Cedar, reports of which are included on the Windsor History thread here
__________________________________________________________
I have just received the following email from Suzy Shearer.
I write having just learned that this local landmark -- voted "most popular tree" by Windsorians only a few years ago in a competition organised by the Windsor & Eton Society -- is due to be felled on Friday 11 March 2011. It would appear that public notification, attached to the tree itself, was installed sometime yesterday.

This beautiful tree is one of the noteworthy living monuments to Windsor's heritage in the town centre and is considered to be irreplaceable by many residents. I have a fairly detailed understanding of the issues relating to trees, buildings and subsidence through direct experience, and have spoken with Helen Leonard this morning to confirm that this is indeed the context in which the decision was taken to remove this tree, the cost of repairs/underpinning the adjacent residence being considered too great a financial burden for the Council to bear.

Whilst I appreciate very keenly the difficult position in which the Council finds itself in relation to this tree, it is concerning that little general public notice appears to have been given to this matter. Buildings and trees in close proximity will always have a delicately balanced relationship, and where the cost of stabilising a building is considered too great, the tree will normally go. Few trees, however, can have quite the majestic stature in either the public eye, imagination or history of the local area, and I and many others are wondering whether it is possible to find an alternative solution to the dilemma at hand.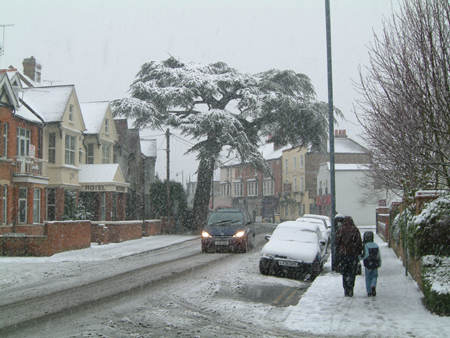 A snowy morning in February 2007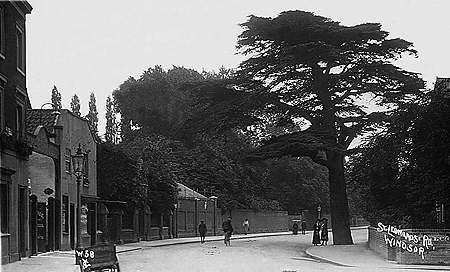 The Cedar Tree about 100 years ago
It should be noted that the tree came before the nearby houses and that underpinning of these houses was undertaken some years ago.
That the tree may be removed without public consultation and with such undue haste is appalling.
The above photographs are the copyright of The Royal Windsor Website but are freely available for use in the campaign to save the St Leonards Road Cedar Tree. High res versions are available from me on request.
Editor - RWWS