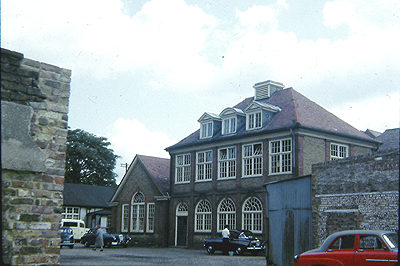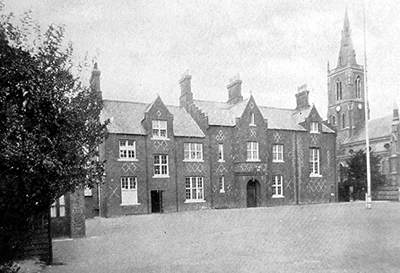 T

he original 1908 school building and the older Church House by Trinity Church
A St John Ambulance Parade outside Windsor Library, probably in the 1950s
I recently came across the above image which recalls the time when the St John Ambulance Brigade had premises beside the original Windsor County Boys School building off Trinity Place. This particular photograph only shows a small section of the building to the left but is valuable in recalling the original school building itself. Many older Windsorians will recall the days when the library was located here after the school moved to its 'new' buildings in Maidenhead Road in 1939.
The school building first opened in September 1908 with Mr G H Wade as headmaster. He had come to Windsor from Wallingford Grammar School. There were just 46 boys in the first term. Church House, across the garden as it then was, was a rather older building and had been purchased in January 1908 and converted for use by the school.  There is a book featuring a comprehensive history of Windsor County Boys School, 1908 - 1929 by the headmaster in 1929, Mr S Gammon.
It would be useful to record here when the library moved over to its new building close to Bachelors Acre. For a period the library made use of retail premises on St Leonards Road before the move to the new facilities.
Here is a possibly unique view of the same area taken from an upstairs window in Church House by G G Cullingham of a wartime ARP training session (or public demonstration) which shows the hut on the left (north) side more clearly. There is more about this picture and
Wartime in Windsor generally on this thread
.