This thread was originally started to feature those wonderful steamers that Windsorians and visitors alike will recall operating from the promenade. 
NB this thread has been merged with an earlier, similar thread
With the demise of The New Windsor Castle and The Empress of India, and prompted by the sight of a beautiful wooden hulled cruiser passing upstream at Windsor yesterday,  I have decided to expand the thread and its title to include those smaller craft that have in recent years been replaced by 'plastic' (GRP) boats which somehow just don't exude the elegance of the old days!
_____________________________________________
Some of the details in this post are no longer relevant but are retained for the record. The latest news is included at the end of this thread.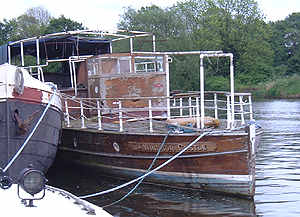 As of June 2005, the
New Windsor Castle
is lying at Sunbury at Turks old boat yard which will shortly be redeveloped. The current owner is anxious to see her moved and it is certain that she will be scrapped if a new owner cannot be found.
The Royal Windsor Website is therefore looking for benefactors to come forward and support a venture whereby the steamer can be moved to Reading and renovated by a team of young volunteers.
In a story published in the Windsor Express on April 22nd 2005, cash is urgently required to purchase the vessel and ensure her safe transit to Reading. Once safely out of the water and on a hard standing, work can begin.

One of the reasons why we are so keen to see her saved is that she was actually built at Windsor, on Jacob's Island, possibly the only passenger steamer ever to be built on this stretch of the river. In addition, this is the stretch of the Thames where she spent most of her working life, and was a grand sight in the summer! Many Windsorians will have enjoyed Riverboat Shuffles in the summer months, and many too will have found their future wives and husbands during such delightful river trips.
One other reason why the
New Windsor Castle
is so important is that she is a Dunkirk Little Ship, actually registered to assist in the evacuation of British troops from Dunkirk in 1940. The New Windsor Castle also operated in the Pool of London helping to move passengers around the city when the roads were blocked during The Blitz.
If anyone has any photos, stories or other reminiscences of the Windsor Castle, do please let us know. We are particularly keen to obtain pictures of her being built on Jacob's Island. We would also love to receive copies of photographs and other news of both the
Empress of India
and
The Windsor Belle
.