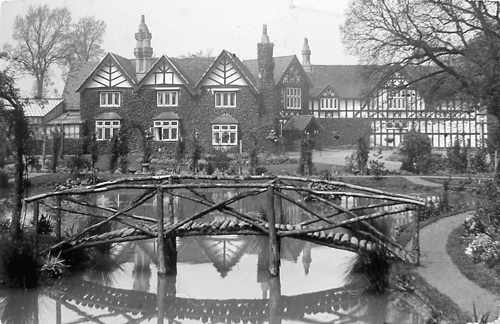 Problem solved thanks to Chris who identified this house as Bishop's Farm, Oakley Green, just west of The Nag's Head PH, but the pond seems now to be filled in when viewed from Google Earth.
As a precursor to an article about a very influential Windsor resident, we are publishing this view of what is believed to be The Willows at, or before, the time it was occupied by Sir Dhunjibhoy Bomanji. (d.1937)
Does anyone recognise it? What is puzzling is the large pond/small lake with bridge which has almost certainly now disappeared. On the back of the card is a handwritten note 'Dedworth Green' and it is postmarked 1912 but no information otherwise about the photo itself.
The architecture of the building looks very similar to The Willows in Sir Dhunjibhoy's day, and we have some pictures to hand illustrating both the building and the events that Sir Dhunjibhoy arranged at his home. These are included below.